Gaming | 01 Aug 2019 | By Sun International
SunStriker produces another instant millionaire at Sibaya Casino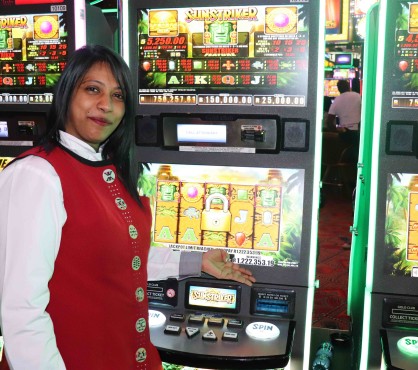 Sibaya Guest Service Attendant, Fiona Inder, next to the winning machine on 19 June 2019.
SunStriker, Sun International's wide area progressive jackpot, produced another instant millionaire at Sibaya this week. This brings to eight the number of Sunstriker jackpots that have been hit at Sibaya since January 2019, with the latest jackpot totalling over R1.5-million and the winner in June taking home a healthy R1.2-million. Both of the winners in June and July preferred to remain anonymous. Since January, Sunstriker jackpots have totaled over 7.7-million. In May 2019 alone, five lucky guests hit the jackpot on Sunstriker, with their winnings totaling over R4-million.
SunStriker, the Group's largest wide area progressive jackpot offers a minimum jackpot of R750 000 and is available at all Sun International casinos in South Africa. With players across the country pushing up the jackpot with every game they play, SunStriker is one of the largest and fastest-growing jackpots in South Africa. SunStriker is exclusive to Sun International, with unforgettable jackpot theme song by South Africa's hottest electro-pop artists, Locnville.
There are 28 SunStriker machines at Sibaya. The game has three Jackpot Levels. The level 1 Jackpot, the SunStrike, is a minimum R750 000 and increases until the progressive jackpot is won. The Level 2 Jackpot, SupaStrike, is R150 000, and the Level 3 Jackpot, the MiniStrike, is R25 000.
SunStriker is all about a Mayan warrior whose golden hammer strikes the base of a Magic Temple to give lucky players the chance of winning the mega jackpot. Players get a stab at the mega-sized jackpot for as little as R5, with bet value options up to R15. When the jackpot is hit, the SunStriker theme song, 'Sun in my pocket' by Locnville, hails the winner.