Gaming | 30 Oct 2019 | By Sun International
Sun International to reward guests with Ocean cruises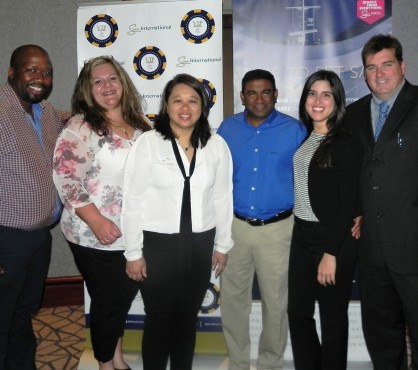 Clix Salman; VIP Manager, Liza Adrianzen; Group Loyalty Programme Manager, Susan Chen; Crystal Cruises, Myan Moodley; Sibaya General Manager, Natalia Madrid; Crystal Cruises and Clinton Edwards; VIP Player Development Manager.
Sun International and Resorts World at Sea have partnered to make complimentary and discounted ocean cruises part of the extensive range of benefits available to members of Sun International's loyalty programme, Sun MVG.
The reinvented Sun MVG programme already delivers more rewards, exciting benefits and exclusive offers than ever before to guests visiting Sun International casinos and hotels in South Africa. A key enhancement of Sun MVG is the opportunity it provides to customers to earn both casino and leisure points when playing slots and table games, staying in hotel rooms and dining at selected restaurants and outlets at Sun International properties. Casino Points can be used for playback on the slot machines and table games and Leisure Points for hotel accommodation, dining experiences or exciting entertainment.
The partnership with Resorts World at Sea means that Sun International's top tier Sun MVG members will have the opportunity to experience sea cruises as a reward simply for being members. Depending on membership tier, Sun MVG members could qualify for a complimentary two week cruise on Crystal Cruise's Crystal Serenity and Crystal Symphony, or receive a discount. Diamond cardholders for instance can qualify for one free cruise per year while Silver to Platinum cardholders will receive a 15% discount on their Crystal Cruise fee.
Sun MVG, which celebrates its 25th anniversary this year, has evolved from an entitlement programme to a true rewards programme which focuses all of Sun International's loyal customers, including both gaming and leisure guests.
"A Sun MVG card is the key to unlocking a world of fantastic benefits and experiences which have been carefully created for our customers' pleasure. Ocean cruises as a reward for being a Sun MVG member is certainly one of the most exciting innovations to Sun International's loyalty programme. Through this partnership with Resorts World at Sea we will make luxury ocean cruises more accessible to our Sun MVG members."said Sibaya's General Manager, Myan Moodley, at an exclusive event to launch Crystal Cruises to top tier members on 15 October 2019.
The new reward will be available to Sun MVG cardholders from January 2020. Members could qualify for a complimentary cruise with Crystal Cruises or a 15% discount depending on their membership tier. The benefit includes complimentary dining (except for specialty restaurants), all non-premium alcoholic and non-alcoholic beverages, 24-hour room service and unlimited WIFI. All eligible loyalty members will be responsible for their own passports, VISAs, flights and transfers, spas and excursions, and any taxes and fees.
Registration to the Sun MVG Programme is free of charge at the Sun MVG Desks at all Sun International casinos in South Africa.
---
Sun International supports responsible gambling. Winners know when to stop. National Responsible Gambling Programme toll-free counselling line 0800006008 or SMS 0766750710. Gambling & promotions for over 18's only.  Sun International Casinos are licensed casinos.