Gaming | 23 Sep 2014 | By Sun International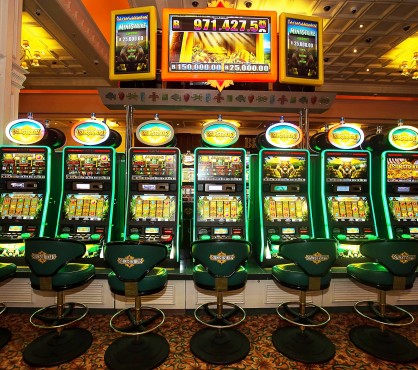 Get Sunstruck With Sun International
There's always a playful air of anticipation on the evening before a public holiday. More so in spring, for when the evenings steadily heat up, so does the mood. As people stream out of the office with a spring in their step, the mood is ripe for an amazing night out. Coming up on the 23rd of September 2014, on the eve of Heritage Day, Sun International will be proudly launching its exclusive Wide Area Progressive Jackpot, SunStriker.
Reminiscent of the countdown to the New Year, and just as exciting, Sun International casinos along with parties of excited revellers will countdown to 8pm on the 23rd of September 2014. The main "switch-on" will be held at Sun International's flamboyant Carnival City, however, ripples of excitement will be felt across the country as 170 SunStriker slots simultaneously go live at all of the twelve Sun International casinos in South Africa.
Sun International's SunStriker slots are not your average casino slots…
With an astounding minimum jackpot of R750 000, SunStriker is expected to become one of the largest and fastest-growing jackpots in South Africa. Not to mention one of the most exciting – starting from as little as R5, players have a chance to win a king-size fortune.
What's more, with SunStriker uniquely being a Wide Area Progressive Jackpot, this means that all of Sun International casinos across South Africa are competing for the grand prize and in the process increasing the jackpot with every single play. From Sun International's GrandWest Casino in the Western Cape to the pride of the North West, Sun City – the more players crossing their fingers and playing big with the SunStriker casino slots, the bigger the mega-jackpot gets.
Before you start dreaming about what you'll splurge on with your winnings, let's get acquainted with this exclusive and exciting game.
Featuring a daredevil Mayan warrior who wields a mighty golden hammer, this game is all about fun times and high stakes! In this addictive game, the Mayan warrior strikes the foundation of the Magic Temple with his golden hammer giving players across South Africa the chance to strike it lucky and win big (real big).
To sum it up: Casino slots in South Africa have never been as exciting!
The easy-to-play game has three Jackpot Levels:
Level 1 Jackpot, the SunStrike, is a heart-stopping minimum of R750 000 and increases until it is won.
Level 2 Jackpot, SupaStrike, is R150 000. 
Level 3 Jackpot, the MiniStrike, is R25 000.
To play, simply insert your Sun International MVG (Most Valued Guest) card, load money to the machine with the use of the Card or Bill Validator, select your preferred bet value and just like that, you're on your way to the high life!
If you're a Sun International casinos newbie, there's no need to stress! There is a handy "Help" button so you too can take a stab at being SunStriker's very first jackpot winner come the 23rd of September.
Lucky tip-off: Be sure to sign up for the super deals available exclusively to Sun International MVG members. For more information about the incredible benefits and rewards available to Sun International MVG members click here and start winning!
But first, practise your dance moves…
If you hit the jackpot you'll be jamming to the sounds of SA's hottest electronic duo, Locnville. Always supporting South African talent while staying current with international trends, Sun International exclusively collaborated with the boys behind Locnville to create a special edition of their hit track "Sun in my Pocket" which blasts whenever the massive jackpot is won.
If you're not already fans of the award-winning duo, you should be! Locnville, also known as LCNVL, consists of identical twins Andrew and Brian Chaplin. Distant relatives of the most famous Chaplin – Charlie, these New York born and Cape Town based musical stars are sure to become global superstars in their own right.
A celebratory song for a celebratory occasion, SunStriker and Locnville will having you happily singing along to this upbeat tune. With the chance of winning a cool R750 000, Sun International couldn't have chosen a more appropriate song.
What are you waiting for?
SunStriker is live at all Sun International casinos in South Africa from the 23rd of September, including:
GrandWest (Western Cape); Sun City, Carousel and Meropa (North West); Sibaya (KwaZulu-Natal); The Boardwalk (Eastern Cape); Carnival City and Morula (Gauteng); Golden Valley (Western Cape); Wild Coast Sun (Eastern Cape); Flamingo Casino (Northern Cape); Windmill Casino (Free State)
For more information about Sun International casinos visit www.suninternational.com.