Gaming | 21 Feb 2018 | By Sun International
Inside the Casino of the Future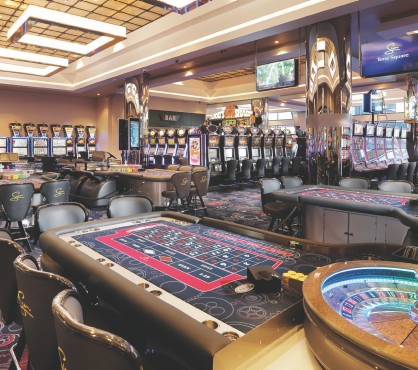 It's set to be South Africa's most advanced gaming venue… We take a sneak peek into the tech marvel that is Time Square – and the inspiration behind the country's second-largest casino.
The brightly coloured lights are starting to flick on, the last licks of paint applied to walls and pillars, the pristine blue carpets with their 'time' iconography rolled out, the gaming tables and rows of slot machines moved into their allocated positions. Showtime for South Africa's second largest casino is April 2017, and the air of expectancy is as charged as the fluorescent Time Square electronic branding. If you close your eyes you can almost hear the buzz of excited punters, the chinggg of slot machines paying out, and excited murmurs from the croupiers. Elegant mirrors reflect and refract the multiple colours, while the clash of angular shapes creates a futuristic gaming-scape that is sure to excite visitors to Sun International's dazzling, brand-new casino and entertainment venue.
Key Players In The Development Of Time Square
Anton Steenkamp: Development ManagerPumi
Lukhele: Property Development ManagerMandy
Clifton Smith: Group Environmental
Manager Mark Pitchers: Development Manager

834 Tons
The weight of the steel used in the roof structure of the casino, hotel, globe bar, arena and decorative globe equals 834 tons.
What Makes The Casino Unique?
'Design. The casino is unique in its design due to its modern contemporary style by day, allowing it to be well suited to its commercial location and leaving behind the heavily themed casinos of the past.
'With the use of the latest lighting and electronic technology, the casino is transformed into a nucleus of light and activity by night.' – Mark Pitchers, Sun International Development Manager
How Does Time Square Comply With The Green/Eco Philosophy Of The Menlyn Maine Precinct?
'Green building principles and managing environmental activities were considered by Sun International right from the design phase. They are being monitored daily during the 34-month construction phase, according to an environmental management plan. 'Energy, waste and water management are all key aspects within the operation of Time Square, and are also in line with how Sun International manages its resources on a daily basis.
'The efficient use of resources at Time Square is material to our business operations. Sub-metering of energy, effi cient artifi cial lighting designs, peak energy demand management and the installation of photovoltaic panels all form part of some of the energy initiatives being implemented. – Mandy Clifton-Smith, Sun International Group Environmental Manager
'The best thing about working on this project – and designing a casino from scratch – is that we were able to maximise floor space for customer satisfaction and enjoyment. ' - Kevin Caswell, Tables Manager, Time Square
Ready For Action
Sun International's Time Square, at the Menlyn Maine precinct in Tshwane, is almost complete. At the time of Privé going to print, all 2 000 slot machines and 60 tables had been installed and the casino floor, spanning 7 530m2 on an impressive two levels, was set for its inspection by the Gauteng Gambling Board.
The Time Square complex is a R4-billion project that will be completed in three phases. The first phase, comprising the casino and restaurant zones, is set to open in April. The casino floor boasts several strategically located themed bars to allow guests easy access to food and beverage services. Says Bianco Marini, Slots Manager at Time Square: 'Time Square is the epitome of world class – from the variety of games, pioneering fl oor layout and advanced customer interaction technologies right through to its breathtaking look and feel.'
A Casino Like Never Before...
The casino will feature more than 988 digital screens, optimised to generate evolving mind and mood experiences. Time Square offers non-smoking and smoking sections, a Sun Lounge featuring higher-end machines as well as tables, and the opulent Salon Privé, where discerning guests can play their favourite slots and table games in utmost privacy and exclusivity.
Other features include a private baccarat pit, four private gaming rooms, and sophisticated customer engagement technologies to deliver a personalised experience. There will also be a diversity of slot machines, innovatively zoned in terms of game mix and denomination to enhance the flow through the gaming floor
50,000
It took 50,000 truckloads to remove the 482 650m3 of soil excavated during the bulk earthworks and super-structure construction phases of Time Square. This is roughly equivalent to the volume of 193 Olympic-sized swimming pools.
Game On
Sun International's aim is to wow with 'never-been seen-before gaming experiences', says Time Square Slots Manager Bianco Marini. Speciality games will include a Game of Thrones-themed slot machine and Buffalo Grand Stampede, which offers a virtual experience including sound and a vibrating seat.
Sun International's hugely popular wide-area progressive jackpots will also be available at Time Square, including Duma which offers a minimum jackpot of R600 000, SunStriker which offers a minimum jackpot of R750 000, and the latest wide-area progressive The Lion's Share (designed exclusively for Sun International by Simplicit-e Gaming Solutions).
The Lion's Share is an African-themed slot game that has three levels of progressive jackpots and a host of new and funky twists to keep players on the edges of their seats. These include free games, wild symbols, stacked symbols, and last but not least – The Lion's Share feature.
The Wow Factor
Other 'wow factor' games guests can look forward to playing include Lightning Link, Duo Fu Duo Cai, Pixie Wishes, Zuma, Plants vs Zombies, Virtual Roulette, Cube X Vertical Ultimate Eruption, Cube X Wheel of Gold, Good Fortune, Brothers Fortune, and Super Wheel Blast. Table games include the high visual impact Saturn Glo Roulette – never seen anywhere else in the world before, Blackjack, American Roulette, Raise 'Em Poker and Baccarat.
Planning A Casino
Most of us get to experience a casino as punters set for a thrilling night out. It's seldom that we think about the logistics behind what goes into creating a casino.
When you build a casino, the concept is the first building block, says Slots Manager Bianco Marini. From there, architects design the look and feel, then the concept and design. 'Once the artist's impressions are received for the different areas − in the case of Time Square, the casino, hotel and arena – the next phase is identifying the games needed and sourcing suppliers,' he explains. Certification is then needed from the National Gambling Board. When planning the layout of a casino, an immense amount of data needs to be analysed, adds Kevin Caswell, Tables Manager at Time Square. 'By consulting the data, we make educated decisions. There are obviously popular games, but behind the scenes we put a lot of work into what else the customer wants.'
The first centrally located, easy-to-access casino within the Sun International group.
The biggest casino in Gauteng and second-biggest in South Africa.
SA's first double-volume casino.
The casino with the most digital displays – 988 of them – in South Africa.
Chairs have been custom-built for added comfort
What's Next?
November 2017 will see the grand opening of the state-of-the-art 8 500-seater arena. The only venue of its kind in Tshwane, the arena will play host to international and local concerts, exhibitions and lifestyle events. The 238-key luxury hotel will open in March 2018.