Gaming | 21 Feb 2018 | By Mark Van Dijk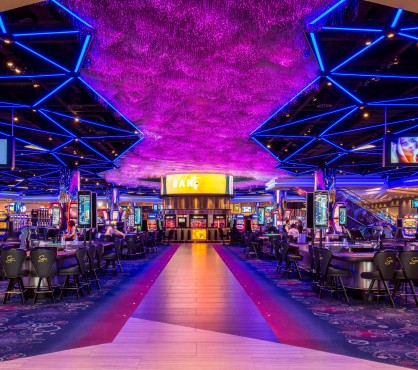 Sun International's casinos boast a winning combination of gameplay and high-tech innovations. Here's a look at what's new on the casino floor…and who's been winning big!
WHAT'S NEW IN SLOTS?
GAME OF THRONES
If you've watched the multi-awardwinning epic TV series, you'll know two things about Game of Thrones: it's loads of fun and utterly compelling, with layers upon layers of action and intrigue. The new Game of Thrones slots game is four entertaining bonus features. It's a reel power game with a four-level R20, with a 50-credit minimum bet and exactly that, with several base features and progressive. Denominations range from 1c to R20, with a 50-credit minimum bet and a 500-credit max bet. The the main houses of the TV show (Stark, Lannister and Targaryen), while the four bonus features include The Wall (where eight spins are awarded, during which the reel set can grow up to 16 symbols high), The Battle of Blackwater Bay (where six free games are awarded on a new reel set), The Mother of Dragons (where you choose a dragon egg defining a multiplier sequence and number of picks), and a progressive feature (where you get the chance to win credit prizes or progressive jackpots). As in the TV show, the visual effects on this slot game are mind-blowing. The game is housed in an Arc Double cabinet equipped with iChair, where dual curved 42-inch hi-definition LCD screens sweep over you in an immersive surround-sound experience.
BUFFALO GRAND
The North American plains imagery, the compulsive gameplay… It's hard to think how anybody could have improved on the legendary Buffalo slot game, yet Buffalo Grand achieves it with a blend of all the fun of the original game, plus a wide range of incredible new features. The core base game elements of the hugely popular original are all still there, along with great new additions like a 4x5x5x5x4 reel set, jackpots, jackpot multipliers and up to 50 free games. It's a 2 000 ways game with a 5-level progressive, and players have a chance to win a R500 000/+ MSP progressive jackpot, as well as four other linked progressive jackpot levels. Minimum bet is 75 credits and maximum is 375, with denominations ranging from 1c to R20.
WHAT'S NEW ON THE TABLES?
BLACKJACK 11S
Like playing Blackjack? Then you'll love the game changing new side bet, Blackjack11s. Blackjack 11s adds an extra element of excitement to your Blackjack game, with the aim being to make 11 out of the fi rst two cards you're dealt. There are fi ve ways of doing this: Jackpot 11s, Same Suit 11s, Same Colour 11s, Mixed Colour 11s and the big prize – the Perfect Jackpot 11s, where if you draw a King of Spades along with an Ace of Spades in your initial deal, the progressive jackpot will be won. During a normal game of blackjack, you can indicate that you want to play Blackjack 11s by placing a chip on the drSensor device, alongside your traditional buy-in. When play begins and the dealer deals the cards, if your first two cards come to the value of 11, you win the side bet. Simple as that!
THE DR IS IN
You'll notice something new on the tables when you play Blackjack 11s: a new, state-of-the-art chip sensor called drSensor, which acts as a chip sensor and game indicator rolled into one. The drSensor has built-in effects and is capable of displaying up to 16.9 million colours using the latest LED technology. You'll get to know it well in the months to come: to play the side games, you have to place a chip on the drSensor button. This new table technology lets you switch between side bet games at the touch of a button, going from Blackjack11s to MatchMaker without closing the table.
A NEW SPIN ON ROULETTE
Time Square's new roulette tables are equipped with the Saturn 7 wheel, designed by UK casino equipment manufacturer TCS John Huxley and used exclusively by Sun International in the regions where they operate. The wheel has three hotspot sensors along its top-inside edge, which follow the speed and movement of the ball. There's a real element of drama to it all, as the lights above the wheel change colour, turning green to indicate that bets are open, then red to indicate that betting is closed. The hotspot sensors then determine where the ball lands, and sends the winning number to a display screen.