Gaming | 18 Aug 2018 | By Sun International
The Next Generation of Gaming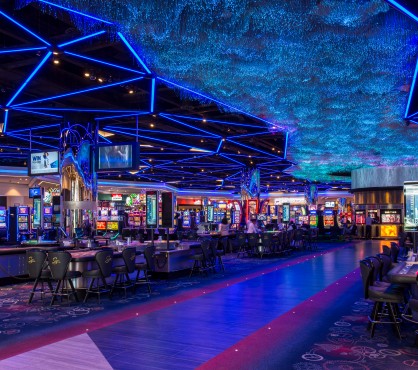 It's a regular scene at video game arcades like The Magic Company, and one that has played out countless times over the years, at countless video arcades across the world. You may even remember similar scenarios from your childhood. Anybody who's grown up near a screen will have some memory of addictive arcade games such as Pac-Man or Donkey Kong, console games like Adventure Island or Super Mario, or mobile games like Snake, Angry Birds or Candy Crush. For many of us, the video arcade is where the fascination with gaming began.
But, while the teen on the smartphone captures an Instagram-ready picture of our tech-obsessed present, it's the video arcade game itself that offers the clearest glimpse into the casino of the future.
Test Your Skills
Casinos across the world are gearing up for that future by introducing skills-based games to their mix of products, hoping to attract the millennial market by offering something they're familiar with. After all, it's not a big leap from a mobile game like Candy Crush – with its match-three puzzles demanding a combination of luck and skill – to a casino slot game like Wild Panda or 88 Fortunes.
In 2016, the US gaming hotspots of Nevada and New Jersey passed legislation allowing for the introduction of skill-based casino games, including those that look, feel and play more like console video games than traditional slot machines.
Pac-Man recently provided a classic example. In September 2017, US developers Gamblit Gaming created Pac-Man Battle Casino, a real-money version that allows groups of two or four players to battle each other for cash prizes. At its launch, Gamblit's chief marketing officer Darion Lowenstein said that it would add 'another level of excitement to the classic Pac-Man experience by bringing fans into the modern arcade – the casino'.
The Arcade's Influence
At the 2017 Global Gaming Expo, the influence of the video arcade was unmistakable. Alongside skills-based games, the biggest trend was interactive gaming. Put simply, the more immersive the gameplay, the better. One Las Vegas casino recently launched a 'Virtual Zone', where guests compete against each other for cash prizes in virtual reality (VR) tournaments. The first events included archery games, where players paid up to US$30 to participate, with the highest score winning up to US$150. It's gimmicky, but interesting – and just the start of VR in casinos.
Designed to appeal to millennials, this new kind of gambling introduces two components – one social, the other skills-based. Pac-Man Battle Casino, for example, stacks the odds in favour of the house, but its algorithms allow players to win gradually, instead of forcing them to hit a random jackpot.
'This move towards skills-based casino gaming is definitely a trend in established markets like Las Vegas,' says Maartin Olckers, Sun International's Group Gaming Product Manager. 'At this stage the research and development is being driven less by casinos and more by the gaming suppliers. The approach is based on getting that younger market – a generation that has grown up with XBox and PlayStation – interested in casino slots and converted into the casino gaming space.'
More than the Game
But, as Olckers points out, there's more to the video arcade trend than just the games. 'You'll find that even more is being done in terms of the overall entertainment on complex,' he says. 'The types of bars and restaurants you have, or the entertainment products you provide, all tie into this trend.'
A 2016 study conducted by Stockton University's Institute of Gaming, Hospitality and Tourism found that American millennials gamble at significantly lower rates than other generations. Millennials, the study found, placed far more emphasis on dining at restaurants, socialising at bars, and attending on-site concerts and shows. When they were asked to rank 28 activities they might pursue as part of a gaming experience, gambling came in 21st.
Here, the casino of the future really does become like the video arcade of the past. Years ago, in shopping malls, kids would migrate to the arcade over weekends and school holidays – not necessarily to play arcade machines, but more to hang out. You'd meet your friends, share out those shiny arcade tokens, play a few games and then sit somewhere and chat before returning to beat your highest score. Casinos are steadily heading in the same direction. 
Turning the Tables
Although much of the arcade-style excitement is focused on the slot games, similar millennial-friendly technology has already made its way to the table games. 'When it comes to table games like Blackjack and Roulette, we've seen this trend coming out in the side bets,' says Olckers. 'In traditional Blackjack, for example, you play to score 21, and you're playing against a relatively small house edge. With side bets you can now play on different outcomes within the game. This enhances the excitement on the gaming floor and, while it's definitely a global trend, it's also something we're already doing at Sun International.'