Gaming | 01 Apr 2019 | By Sun International
100 Cars in 100 Days to be won with Sun International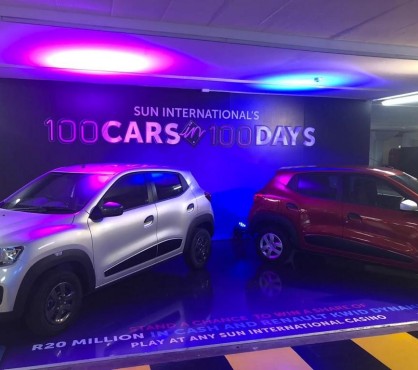 One of South Africa's largest gaming and leisure companies, Sun International, unleashes its latest large-scale gaming promotion, 100 Cars in 100 Days. From 1 April to 9 July 2019, Sun International will give away cash and nifty Renault Kwid Dynamiques worth a staggering R20-million across its twelve South African casinos.
"One of the biggest and most innovative gaming and leisure companies in South Africa, Sun International unleashes another large scale, nationwide promotion which will see the Group give away R20-million in prizes. 100 Cars in 100 Days is exciting, ambitious and only at Sun International casinos," says Travis Brown - Group Gaming Promotions Manager.
There are chances to win cars and cash in the weekly, monthly and bonus draws at the various casinos. Cash and car draw dates will vary at each casino. The participating casinos are Time Square (Gauteng); GrandWest (Western Cape); Sun City (North West); Sibaya (KwaZulu-Natal); Carnival City (Gauteng); Boardwalk (Eastern Cape) ; Golden Valley (Western Cape); Wild Coast Sun (Eastern Cape); Carousel (North West); Windmill (Free State); Flamingo (Northern Cape) and Meropa (Limpopo).
100 Cars in 100 Days is exclusive to Sun MVG members. Guests who are not members of Sun MVG can still be part of this exciting nationwide promotion by signing up at the Sun MVG Desk at any participating Sun International casino or online.
Membership to the Sun MVG programme is free and opens up a world of rewards. Sun MVG offers guests the opportunity to earn both casino and leisure points by playing the slots and tables, when using the online sports betting facility Sun Bet, when staying at Sun International hotels and when dining at selected restaurants at Sun International properties. Casino points can be used for playback in the casinos and on Sun Bet and Leisure points for hotel accommodation, dining experiences or exciting entertainment.