Entertainment | 24 Feb 2015 | By Sun International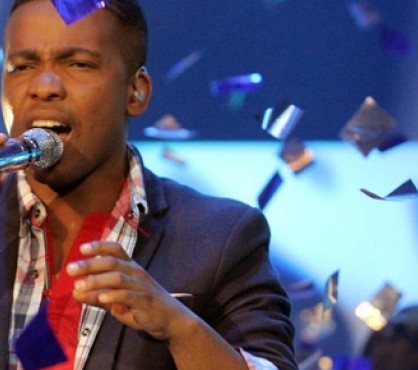 An Update on 2014 Idols Winner, Vincent Bones
It's hard to believe that only a few months ago Vincent Bones earned the title of 2014 Idols winner. Since then he has had little time to relax, between rehearsing, recording and travelling the country to perform. But with his family as his source of inspiration, Vincent B, as he is affectionately known by fans, shows little sign of slowing down. In a recent interview, when asked about the future, Vincent B said that this year would be an exciting one, hinting "I will get a few nominations this year, locally and internationally."
Did you know? The Vincent Bones Idols Season 10 lured over 24 million votes.
So, in an effort to prepare for what surely is to be the year of Vincent Bones Idols winner turns international superstar, here's everything that you need to know about him.
Like something out of a movie, the story of Vincent Bones' meteoric rise to fame is a tale of overcoming great odds in order to achieve even greater success. Born in Eldorado Park, Vincent B fled his home town after the tragic death of his mother and uncle. Taking the train to Sunnyside by himself, he began living on the street all before his 13th birthday. Fortunately, a stint at Boys Town provided Vincent B with some much needed relief. There he was able to finish school, and slowly, by the efforts of his own incredible will, he began to turn his life around.
Did you know? Vincent Bones describes his unique music style as "old-school RnB, retro-soul."
After his difficult upbringing, the challenge of winning over audiences was a welcome change for Vincent Bones who had faced far greater challenges in the past. Not that he needed to convince audiences of his incredible talent… This 30 year old musical maestro plays the piano, drums, bass and saxophone – talk about being an overachiever!
To watch the best Vincent Bones Idols performance, click here.
For those hoping to follow in Mr Bones footsteps he has this piece of advice:
"The best thing I can say is to believe in yourself a little bit. If you know your talent that will help you, because if you come to a show like Idols you need to make sure that you work on your confidence a little bit."
there you have it, all it takes is a "little bit" to get a long way. On Friday 6 March, you have the opportunity to see Vincent Bones performing live at Flamingo Casino in the Northern Cape.
Did you know? Before entering Idols, Vincent B had dreams of being a famous soccer player.