Lifestyle | 09 Oct 2014 | By Sun International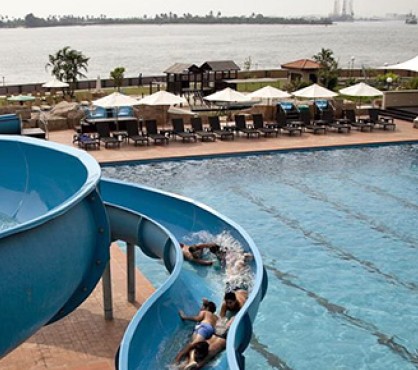 Enjoy Nigeria's Most Exclusive Pool Club
Did you know that if you're staying at the 5-star Federal Palace Hotel and Casino in Lagos, you get unlimited access to the most exclusive pool club in Nigeria?
The incredible Pool Club is a first on Victoria Island, and a fresh addition to the Federal Palace's already renowned 5-star hotel and casino in Lagos. It's also for members only, which means that whether you're travelling to Nigeria for business or pleasure, you'll be rubbing shoulders poolside with the Lagos elite. A great spot for networking, family activities or just relaxing, the Federal Palace Pool Club is the coolest place to be in Nigeria's trendy business hotspot.
Lounge around
While you may not be able to depend on public transport in Lagos, one thing is guaranteed in this West African city and that is hot weather. It doesn't matter if it's a clear sunny day or an overcast sky; the Pool Club is where you'll want to cool down.
Spend the day sunbathing on one of the deck chairs that surround the crystal pool, or lounge beneath a canopy of billowing white curtains on a sumptuous poolside double bed. Your view of the lagoon from here is only interrupted by the swaying palm trees that rise from the centre of the pool. This hotel in Lagos is a sanctuary in the heart of a sprawling and chaotic city, and the one true spot of bliss you can count on.
Play
If you're travelling to Nigeria with kids, you should know upfront that the Federal Palace Pool Club offers the only water park in Lagos. It also has an ample offering of grass lawns, which is a rarity in the city.
While you're enjoying the luxury of lounging around, the kids will love taking on the supertubes that wind through a landscape of adventurous rockeries. They may never want to leave the pool, but if they do, there's a play park complete with trampolines and jungle gyms to burn off that extra energy. And if it's pure entertainment they're after, send them to the kiddies' game room or challenge them to a round of miniature golf.
A word of warning though: the Pool Club is a popular destination for club members and their families especially over the weekends. If you want to escape the crowds, there are plenty of other things to do in Nigeria.
Get fit
As a member of the Federal Palace Pool Club, you have access to all of its fantastic facilities, including the Olympic-size swimming pool. Refresh your body and mind after a day of rigorous business meetings by swimming a few laps in the salt-chlorinated water, or taking a run around the scenic jogging track.
While this Lagos hotel has a gym that is fully-equipped, if you want to pump some iron in the sun there's an outdoors exercise circuit. And if there's some friendly competition that needs to be settled between you and a business colleague, settle it on one of the club's tennis courts with a match of fitness and skill.
Recently renovated, the Federal Palace Hotel and Casino is by far the hottest destination in Lagos and guests have complimentary access to all Pool Club facilities.