People | 04 Dec 2017 | By Sun International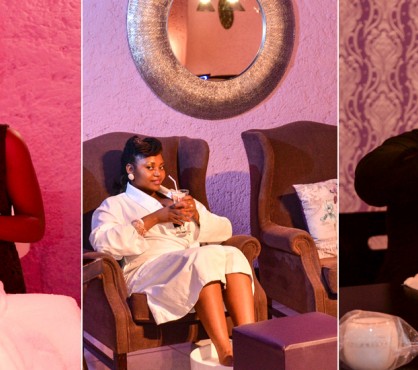 Tshepo Mdake, the owner of Shangilia Spa at the Carousel, has been awarded a joint-third-place in the 2017 SAB KickStart Boost project. Sharing third place with clothing manufacturer, Nthabiseng Lemena, Tshepo has won a cash prize of R150 000 to invest in her business.
South African Breweries (SAB) announced the winners at the awards ceremony on 28 November 2017. One of the longest-running entrepreneurship initiatives in South Africa, the SAB Kickstart Boost project is aimed at growing the skills of entrepreneurs between the ages of 18 and 35. This is achieved by training, funding, mentorship and assistance with a business growth development strategy.
Tshepo is also one of Sun International's Enterprise and Supplier Development Programme beneficiaries. We spoke to her about her business, her experience as a finalist in the SAB Kickstart Boost project and the challenges she faces as a young entrepreneur in South Africa.
Congratulations on winning third place in the SAB Kickstart Boost project! Tell us about your experience in the programme?
Tshepo: The journey has been empowering and enlightening. I entered at the beginning of 2016 and was selected as one of 24 candidates in the Regional Finals, which took place in October the same year. I was delighted to then be chosen as one of the Top 10 national candidates and ultimately to share third place with Nthabiseng Lemena.
How did you start your business?
Tshepo: After graduating from the University of Johannesburg, I worked in the industry for 13 years before launching my business at Carousel. Growth is an everyday process, but looking at where we were to where we are now, we have achieved some great milestones. Today, I have an amazing team of seven employees and three freelancers.
Tell us about your business relationship with Sun International and Carousel.
Tshepo: We're an Enterprise Development project of Sun International, operating from Carousel. It's been an amazing place to launch our business and has provided us with a great support structure in which to grow..
What are some of the challenges you face as a young business owner in South Africa?
Tshepo: One of the biggest challenges is building a brand from conception. Also, multi-tasking between HR, finance and operations and still being a strategic partner or a vision carrier to move the brand forward. However, three years on I now have HR personnel, an accountant and a spa manager, and I'm grateful for them.
How do you overcome these challenges?
Tshepo: By working hard, supporting my team members and helping them improve and increase productivity. I stay positive and see growth despite the challenges.
Running a business in South Africa's current economic climate isn't easy. How do you remain relevant in the market?
Tshepo: We adapt to the economic climate without compromising on the quality of our products and services. For example, we introduced miniature products and express treatments that offer great value for money.
How do you define leadership?
Tshepo: I would say leadership is the ability to carry people through impossible situations with grace, dignity and drive. As a business owner, you have to enable your employees and allow them to learn from you so that they can take over from you one day.
How do you define success?
Tshepo: My advice is to overcome fear, research what it is you want to do, have a relentless spirit and see the end result from the beginning. If you do that, success is inevitable.
What advice would you give young entrepreneurs who dream of starting their own businesses?
Tshepo: My advice is to overcome fear, research what it is you want to do, have a relentless spirit and see the end result from the beginning. If you do that, success is inevitable.
Where to next?
Tshepo: Since visiting China, I've received an invitation to open a Shangilia fragrance store. We're also looking at supplying Sun International hotels and casinos with our diffuser range and we do bespoke gifting for corporates. My plan is to grow the spa and establish a bigger base for the product development and manufacturing side of the business.
Another exciting development is that I've been accepted by the Johannesburg Chamber of Commerce and Industry for the Global Accelerator Programme, a three-year course which will help my business to become export-ready for the global market.