Conferencing & Meetings | 05 Mar 2020 | By Sun International
The most flexible conference venue in Johannesburg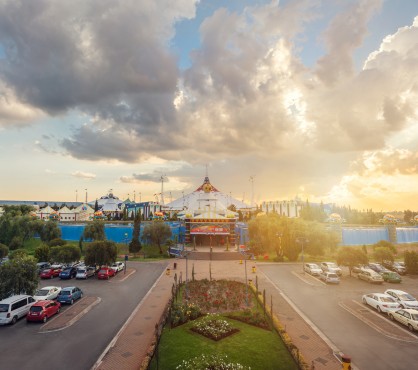 South Africa has become a competitive destination in the meetings, incentives, conferences and exhibitions (MICE) industry, encouraging venues to innovate through flexible conferencing solutions, globally competitive technology and adaptable infrastructure.
More than 210 000 conferences, meetings and exhibitions are hosted annually in South Africa, according to the Mail&Guardian. With R115 billion in turnover in 2018 alone, business tourism has become a massive money-spinner for the hospitality players who get it right! But with a market that's flooded with choice, how do you choose the right venue to host a conference?
"When planning a conference or seminar, choosing the venue is the hardest part. Location and access to amenities are important, but you also want a venue that is flexible with conference packages and can tailor the food, theme and entertainment to suit your budget and banquet," says Carnival City's Marketing Manager Michelle Smith.
When looking for a venue to host a conference in Johannesburg, consider these tips to ensure you get more 'bang' for your conferencing buck…
Go for the flexi-option!
"It makes sense to choose a venue that caters to all your requirements or will create a package around your exact needs," says Michelle. As one of the most sought-after venues in the East Rand, Carnival City offers a one-stop conferencing shop and will build a bespoke event within your budget.
"If you can dream it, we can bring it to life," assures Michelle. "Carnival City's conference venues are adaptable and we offer flexible packages centred around the food and décor, team-building activities and entertainment. The size of your event doesn't matter."
Add star power to your East Rand conference
A conference at Carnival City comes with front-row seats to the best shows in town! From comedy to local music and international acts, make your delegates go "Wow!" and plan your conference around our next big show.
"Discounted rates apply to group bookings on Carnival City shows; this gives our clients the option to pre-book their conference entertainment or add some glamour to a work function," says Michelle. 
With access to the best entertainment in the East Rand, 24-hour gaming at Carnival City Casino and a fabulous selection of restaurants and bars, Carnival City turns any conference into a memorable and fun experience.
Create a winning itinerary
Planning a conference not only involves the menu design and décor, but starts with a well-balanced itinerary. "You want your delegates to feel connected and engaged throughout the event. From the welcome drinks and pre-dinner entertainment to the celebrations and after-party, the success of your conference depends on the content you fill it with," advises Michelle.
"At Carnival City, we encourage our clients to choose a conference package that strikes a balance between work and play. Think dinner and a show after an all-day conference or some comedy to kick-start your awards evening! We've also got 10-pin bowling, Laser Tag, go-karting and other team-building activities to enjoy before or during your Carnival City conference."
Choose a fitting theme
Whether you opt for a simple, stylish setting, or decide to channel the Gatsby era (feather boas included!), choosing a theme creates excitement and intrigue. "You want your delegates to build some hype around the event and you want to land the message that there's fun to be had in-between the work," Michelle points out.  
Whether you opt for a classic, elegant or fun conference, Carnival City has you covered, with 13 different conference themes on offer. In addition, our dedicated banqueting team will help you plan the menu, décor and entertainment to transport your delegates into another world. "We also have the option of half- and full-day packages, and can cater for anything from small seminars to large-scale business banquets," says Michelle.
Get a room!
Are you planning a destination conference in Johannesburg and require upmarket accommodation for your delegates for the duration of your event? Situated alongside Carnival City Casino, Carnival City Hotel offers fully serviced accommodation with all the mod cons and amenities to ensure your guests are well looked after.  
Take a tour of Carnival City Hotel.
Heard about Sun Park?
Carnival City offers a choice of adaptable conference rooms, including Sun Park, a multi-functional event space that can be configured to suit the size and format of your concert or exhibition. Sun Park's intelligent grid system means you can plug and replay your event at other Sun Park venues around the country. Simply pack up your Carnival City conference and replicate it at GrandWest in Cape Town, for example.