17 Nov 2014 | By Sun International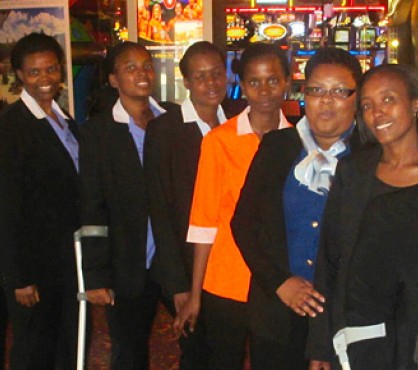 Doing Things Differently at Carnival City
Carnival City Casino and Entertainment World is known as a Gauteng casino that's fun and imbued with pizzazz. But, beyond the glamour of the casino floor, the serious task of running a business and creating employment opportunities for Gauteng residents takes precedence.
And it's behind the scenes that Carnival City is committed to making a positive difference to disabled residents of Ekurhuleni. Through a well-coordinated and carefully structured experiential training programme, contributing to Brakpan as a community. The Carnival City staff complement has expanded to include 17 interns with special needs. For these people, the Carnival City team provides hands-on training and mentorship programmes, helping them gain a skill set previously deemed unattainable.
Joseph Carrim, one of the learnership programme candidates, had his right arm amputated after a farm accident. A father of 3, Joseph has battled to secure employment since the accident but was placed into the Carnival City marketing department, thanks to his unique skills gained as chairperson of the Ekurhuleni Disability Forum. Despite his disability, Joseph's community involvement and consistent volunteer work within his own neighbourhood speaks volumes of his commitment to improving not only his own life, but also the lives of those around him.
Similarly, 24-year-old Sphiwe Mthembu also believes in the power of determination. Currently part of Carnival City's Human Resources department, Sphiwe believes that a disability doesn't make people different – it just means they do things differently. Heartened by Carnival City's support of the differently-abled community in Ekurhuleni, Sphiwe and Joseph are joined on the learnership programme by: Palesa Buthelezi; Peter Shabangu; Lerato Matekane; Lerato Maebela; Nomfundo Majavu; Hazel Ngobeni; Thandeka Msibi; Maureen Diale; Phindile Nhlengethwa; Sello Morabe; Susan Zulu; Sizwe Ngomane; Elizabeth Mabitla; Bongani Lubisi and Thapelo Lebudi.
The learnership programme runs for a full year and has placed its 17 candidates into a range of departments at Carnival City. As they are placed into job shadowing and skills development programmes, the candidates are given ample opportunities to learn and hone their specific skills, adapting to the varied needs of each department. Each candidate has different disabilities but that will not prevent them from graduating with an NQF Level 4 qualification in business administration at the end of the Carnival City learnership programme. 
While the learnership and mentoring programme at Carnival City could be viewed as a charitable initiative, it's really not. The programme works to not only enrich the lives of Ekurhuleni residents but also opens up opportunities for community development initiatives in brakpan. After all, some people aren't looking for a hand-out; they just need a hand up.