18 Nov 2014 | By Sun International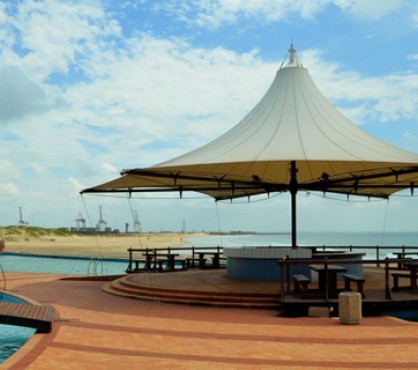 Take a Stroll along the Port Elizabeth Promenade
Taylor Swift likes to "Shake It Off" but we suggest that you walk it off - that is if you're lucky enough to be in Port Elizabeth. Known as both the "The Friendly City" and "The Windy City" depending on who you talk to, it is safe to say that Port Elizabeth is one of the most relaxed cities in South Africa.
With only a handful of places to stay in Port Elizabeth but a ton of things to do with kids, the choice is easy: when in Port Elizabeth with the kids, the only place to stay is the Boardwalk Hotel.
Did you know? Between June and August and November and January, Port Elizabeth is a great place for whale-watching.
With your Port Elizabeth accommodation ticked off, for family activities and perhaps a sighting of the majestic humpback whale, look no further than a walk on the promenade. Stretching for several kilometres, the promenade includes Humewood Beach, Hobie Beach and King's Beach.
Things to do along the Port Elizabeth promenade:
Walk it off
Both wheelchair and pram-friendly, the promenade welcomes babies, parents, grandparents and everyone in between. A great walk for those hoping to keep fit on holiday; download the Nike+ Running app and clock up the kilometres while taking in the scenery.
The most eye-catching feature on Port Elizabeth's shoreline, Shark Rock Pier is located between Hobie Beach and the Red Windmill the pier is at the very centre of the Port Elizabeth beachfront and is a major landmark and drawcard, offering walkers spectacular views.
Did you know? Walking regularly improves your memory and wards off stress.
Take a dip at McArthur Pool
Also known as McArthur Baths, this set of pools is open from 08:00 to 18:00. Offering visitors heated and cold swimming pools and kiddies pools with slides, watch the afternoon disappear at this family spot. (Note: closed from May to August).
The Boardwalk
Port Elizabeth's biggest entertainment complex, the Boardwalk hugs the promenade and offers visitors refuge from the fierce wind. With a cinema, casino, spa, arcade and a bunch of tempting restaurants, there's (almost) no need to ever leave this gem of a place.
Tip: Click here to check out these discounted kids and teens' entertainment packs.
All aboard the Sea Breeze Express
Operating only during summer school holidays, this miniature train can be found along the promenade by King's Beach. Run in aid of charity, everyone wins with this kids' attraction.
For more info about Port Elizabeth's not-so-miniature railway station, click here.
Did you know? King's Beach, Hobie Beach and Humewood Beach are all Blue Flag status beaches.
Become a postcard prop
Be a good tourist and grab an ice-cream from The Windmill. Great for photos and even better for taste buds, an ice-cream is a promenade essential!
Tell us: What is on your list of things to do with kids in Port Elizabeth?