People | 07 Dec 2015 | By Sun International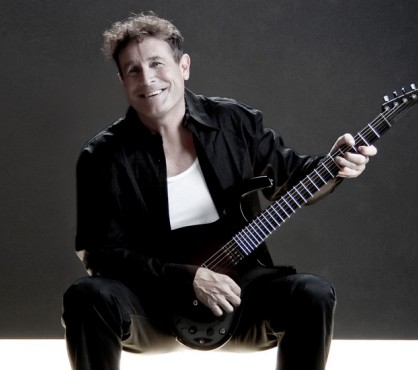 Don't Miss Johnny Clegg Concert in Port Elizabeth
Johnny Clegg, one of South Africa's most celebrated artists will be taking the stage at the Boardwalk on 26 - 28 January 2018 in an intimate outdoor performance. Besides being a singer, songwriter and dancer, he's an anthropologist and activist too. And he was recently honoured as an Officer of the Order of the British Empire (OBE) in recognition of his unique services to the arts, vulnerable people and children, and to democracy in South Africa. Don't miss the upcoming Johnny Clegg concert, Port Elizabeth!
For over three decades, Johnny Clegg's vibrant blend of Western pop and African Zulu rhythms has not only broken all barriers here in South Africa, but has exploded onto the international scene too. He's sold over five million albums and in France, where he enjoys a massive following, he is fondly called Le Zulu Blanc – the white Zulu.
Ahead of the Johnny Clegg concert in Port Elizabeth, here are 10 things you don't know about Le Zulu Blanc
1
Born in England, Johnny only immigrated to South Africa when he was seven years old. His stepfather, a crime reporter, exposed Johnny to township life at an early age, which gave him a broader cultural perspective than that available to his peers.
2
While lecturing Anthropology at the University of the Witwatersrand in Johannesburg, Johnny worked on the concept of blending English lyrics and Western melodies with Zulu musical structures. This blend was recognised by local producer Hilton Rosenthal, who championed the project (even though blended music at the time was considered unprofitable because of radio censorship).
3
Due to apartheid's Group Areas Act, Johnny's band, Juluka, could only play in private venues as the law forbade mixed race performances in public spaces, and security police attempted to close down their concerts whenever they could.
4
Despite Juluka's groundbreaking work being largely ignored by the SABC (South African Broadcasting Corporation), the band developed a huge local following of students and migrant workers.
5
Juluka split up in 1985, and Johnny formed another crossover band, Savuka. Johnny's concept for Savuka – to mix African music with a wider music base and international rock sounds – was a massive success. Savuka toured extensively in Europe and north America from 1988 to 1993, and smashed all attendance records in France in 1988 and 1989.
6
Savuka split in 1993. Since then, Johnny has recorded several solo projects including One Life in 2007. And now you get the chance to see him live at the Johnny Clegg concert in Port Elizabeth!
7
Johnny Clegg has performed at all four of Nelson Mandela's 46664 Aids Awareness Concerts in South Africa and in Norway. Mandela joined him on stage during the rendition of Asimbonanga, a song written by Johnny about Mandela (and other struggle heroes) during his period of incarceration.
8
Johnny's haunting song Impi (meaning "Zulu warriors" or "War") regularly echoes within any South African Rugby stadium which, together with his song Great Heart from the movie Jock of the Bushveld and The Crossing (written for Dudu Ndlovu, his Zulu dance partner in the Savuka era), has achieved anthem status. Among his other notable hits are I Call Your Name, Scatterlings of Africa, African Sky Blue, Take My Heart Away, December African Rain, Kilimanjaro, and Fever. Which songs do you hope he'll perform at the Johnny Clegg concert in Port Elizabeth?
9
Among his international awards, Johnny was honoured by the Mayor's Office of Los Angeles for the promotion of racial harmony (1988), French Music Industry Award for the biggest selling world music album in France (1990 – 1991), a Grammy Award Nomination for Best Album (1993), and a Billboard Music Award for Best World Music Album (1994).
10
He's a French Knight! Johnny Clegg was awarded the Chevalier de L'Ordre des Arts et des Lettres (Knight of Arts and Letters) by the French Government in 1991.
Don't miss the chance to see the legend live at the Johnny Clegg concert, Port Elizabeth! The show, on 26 - 28 January 2018, will see Johnny Clegg performing with his band, and will include intimate storytelling, where Johnny will talk about the events in his life and the world at the time that motivated him to write each song. It is a personal journey, which promises to be uplifting, moving and also humorous. 
Johnny's unplugged shows are coming to an end in this series and this will be one of the last opportunities to hear the stories behind the hits in this intimate format. Book your tickets for the Johnny Clegg concert Port Elizabeth at www.computicket.com